Perhaps you thought your free traffic from Google was cast in stone. You've had solid referrals from them for years. Why should anything change?
Well maybe you haven't read what happened to David West of the Veincentre August 2018.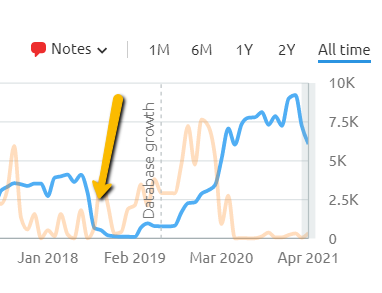 According to the Sunday Times, (you can read the article here) his site suffered a 68% loss in visits and an 80% drop in sales and it went on for several months. This is a rough screenshot of his visits. He had approximately 4k visits in July 2018 and this fell to a few hundred from October 2018 to February 2019. The slight recovery later on, is due to paid advertising, a very expensive way to maintain sales.So what happened?
The Medic update from Google.
Here's a link to an article from the Sunday Times discussing it.
This update was designed to improve quality results in a Google for medical and surgical terms, only it went a little too far and started removing good sites, some of them big advertisers in Google.
They stopped it in February 2019 so they could fix it up. And yes, those big companies got some of their traffic back- not all, but some.
But here's the thing. When Google do roll outs (updates of how they show results of a search) and things are not working out too well, they stop them , fix them and re-release them again with improvements.
So if you thought you'd escaped this update, you might like to recheck your traffic for any drops.
Why would this have anything to do with your clinic website?
Because Medic was designed to target the medical market and improve the quality of its results. And you are in that niche, even if you think your site is set up well just now.
So what do you do?
You protect yourself. You don't get caught out like in the Panda and Penguin debacles which damaged many businesses about eight years ago.
If you do things right and put fixes in place over the next few weeks, you'll be fine. If not, you'll scramble to try and get it fixed. Then have to wait 3 or 4 months while Google finally recognises you fixed things.
Only THEN do you get your rankings back. And that's if you do it right.
If not, you're going have to run up some hefty paid advertising bills.
Here's another eye catching example of a medical site from the States suffering the same way. The screenshot shows visitors to draxe.com, a huge operator in the medical sector, over the same period of the Medic roll out as Veincare.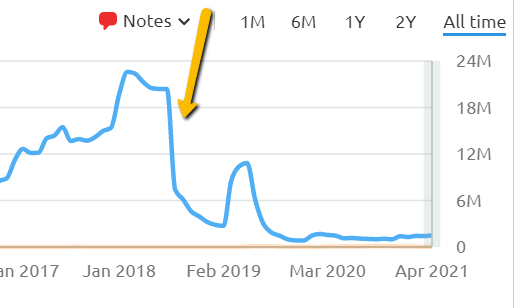 Here, the fall-off in sales truly makes your head spin. This company had visits of 14 million in July 2018, which fell to 1.7 million at the very low point of the medic update.
No alt text provided for this image
Again Dr Axe had to place paid advertising to recover some of his lost sales.
What do you do about it?
If you want to sleep a little better at night, you'd better make sure you're well protected. If you are, the update will roll over you and not have any effect. If, on the other hand, you are not, expect to suffer some sales loss for at least 3 months, and that's if you get it perfectly right. The internet can be a stormy and frightening place.
Arthur Stoller
You can book a call here to discuss or comment below.
P.S. Please hit the "share" button below and pass this on to at least 1 other medical clinic. Everyone's sales are at risk. It's important that all clinics are up to speed with this, whatever their speciality.
If this topic could affect you, book a call here for a complementary in-depth
discussion about your clinic.
https://www.referralsuite.co.uk/book/
I look forward to talking with you
Arthur
01636 893681